MEAX MT30- Machine tool Calibration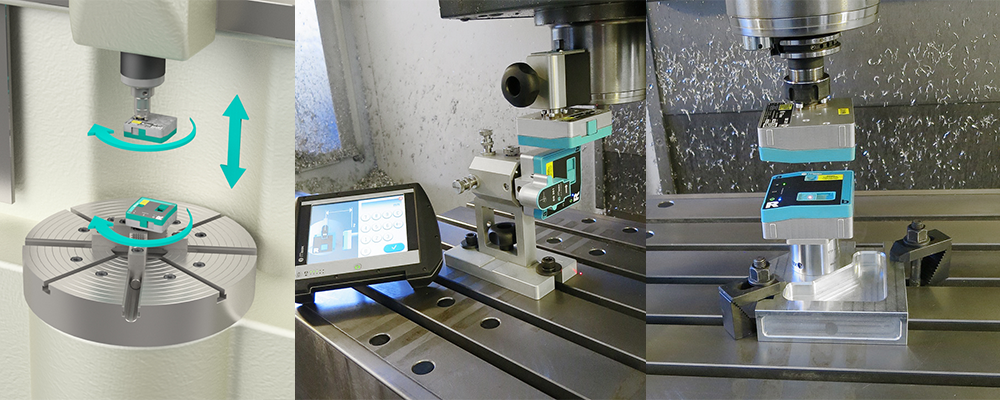 MEAX MT30 är ett mätsystem som utvecklats speciellt för snabba kontroller av verktygsmaskiners
geometriska status med hög noggrannhet. Instrumentet mäter maskinrörelsernas geometri i flera enkla steg med de olika applikationer som visas på visarenheten. Meax MT30 innehåller fem mätsensorer som alla ansluts trådlöst till visarenheten där mätresultat beräknas och omedelbart presenteras för användaren. Resultaten från mätningarna visas både grafiskt och numeriskt för enklast tänkbara utvärdering och kan även lagras i visarenhetens minne. En mätrapport med alla mätvärden från en maskin kan skapas i PDF-format direkt i visarenheten. Det går även att exportera resultaten via ett USB-minne för vidare dokumentation. Mätsensorerna i Meax-systemet är precisionsinstrument som utvecklats speciellt för att säkerställa hög noggrannhet under krävande mätförhållanden. Meax MT30 levereras i två robusta rullväskor som gör det enkelt att transportera och bära hela systemet
HARDWARE
MEAX DU - Visarenhet
Meax DU är en robust displayenhet som är speciellt konstruerad för användning i industrimiljö  där det ställs höga krav på tillförlitlighet och försvar mot både skärvätskor och smuts.
Displayboxen har en stark aluminiumram och en gummibelagd yta som gör den extremt stötdämpande och gör det lätt att hålla. Detta betyder att den kan läggas ner på maskinerna utan att den glider iväg. En stor, skarp 6,5 "färg pekskärm som gör det enkelt för användarna att se och ger möjlighet att visa vad som visas på skärmen även på långa avstånd. Allt detta för att möjliggöra en flexibel användning av systemet även i en tuff miljö.
---





MEAX SM/SR - Measuring sensors
MEAX SR201 and SM201 serve as multifunctional sensors.
They both have an integrated laser transmitter, a 2-axis PSD detector and a high-resolution inclinometer to record the angle of rotation. The sensors are used for a variety of types of measurements such as
straightness, squareness, spindle direction, and coaxiality.The SR unit (marked R) is fitted to the part of the machine which forms a reference, and the SM sensor (marked M) is fitted to the machine axis that is to be measured.


---
MEAX LM/LR - Angle sensors
MEAX MT30 contains two twin axis measuring sensors for accurate angular measurement. Meax angle sensors have a unique design with wireless communication via Bluetooth and a rechargeable battery. It allows use of the machine even if the machine doors are closed, which is a prerequisite for working safely in the machine. Wireless communication also allows the option for the operator to bring the display unit to the location where the alignment is to be made when setting up the machine.


---
MEAX PEN
Meax Pen is a battery-powered measuring pen that connects wirelessly via Bluetooth to the Meax display unit or to a mobile device using an App. The measuring sensor can be used for operations like the measurement of machine spindles, movements/gaps in machine slides, measurement of repetition accuracy in fixtures or turning gaps in machine movements. The wireless transmission enables the sensor to be mounted in the machine where you can perform the measurements with the machine doors closed.


---
MEAX POINTING FIXTURE
Used for measuring squareness in vertical and horizontal mills and multi-operation machines. The fixture can be attached directly to the machine table, where the pointing direction can be set vertically or horizontally.
Alternatively, the fixture can be mounted in the machine spindle depending on the machine configuration that applies to the measurement.
The SR-sensor with angular prism is mounted in the fixture and the direction of the laser can be adjusted parallel to one of the machine movements with the aid of the built-in micrometer screws. The rotation angle of the SR sensor is then calibrated to ensure that the angled laser beam is aligned with the other machine axis.
MEAX INDEXING FIXTURE
This fixture is used to measure parallelism between a rotating spindle and its own movement when the spindle is mounted on a machine axis. The fixture can be mounted in a variety of ways to be able to measure in machines with horizontal and/or vertical movements. The fixture consists of a hydraulic clamping chuck with four indexing positions, an attachment to the SM sensor and a mounting plate for fitting to the machine table. The hydraulic chuck can also be mounted on the circular mounting plate or shaft extension with diam. 20 and 16 mm.
MEAX MAGNETIC SENSOR STAND
The Meax magnetic stand is used when the SM sensor can not be mounted in a machine spindle, tool mount or with any of the accompanying magnetic feet. The measuring stand has a flexible 3-conductor arm that can be locked sequentially with a lock handle. The SM-sensor with shaft extension is mounted in the stand using a clamp bracket that allows you to adjust the rotational angle of the sensor, for example, parallel to the machine bed.
MEAX CIRCULAR MOUNTING PLATE
Used for the installation of SR or SM sensor in spindles without chucks, or directly on the spindle nose. Can also be used with a hydraulic clamping chuck from the indexing fixture.
Comes with magnets and extension rods (L=40 mm, L=80 mm)
BROCHURE AND MANUAL
Technical Specification
MEAX SM/SRHousing material:
Anodized Aliminium and ABS plastic
Operating Temp:
15 to 30°C   ( 59  to 86°F)
Weight:
306 g  (10.9 oz)
Dimensions:
82mm x 86mm x 33mm  (3.2 in x 3.4 in x 1.3 in)
Environmental protection:
IP 65
Laser:
650 nm class IIdiode laser
Laser power: 
< 1mW
Measure distance:
Up to 3 m
Detector
:    2-axis PSD
Detector size:
16mm x16mm (0.6in x 0.6in )
Detectorution resol:
1µm
Measurement accuracy:
  1% ± 3 µm
Inclinometer resolution:
  0.01°
Inclinometer accuracy: 
± 0.1°
Communication range:
  10 m (33 ft)
Power supply:
  High preformance Lilon battery or external power
Battery charging time (system off, room temp):
  8 h
Battery LED indicators:
Unit state, laser transmission; battery status and Bluetooth

Wireless communication:
Class I Bluetooth transceiver with multi-drop capability.
MEAX LM/LR
Operating Temp: 15 to 30°C ( 59 to 86°F)
Storage Temp: -20 to 70°C ( -4 to 158°F)
Relative humidity: 10 – 90%
Weight: 386 g (13.6oz)
Dimensions: 77mm x 84mm x 45mm  (3.0 in x 3.3 in x 1.8 in)
Environmental protecntion: IP 65
Inclinometer: High performance MEMS inclinometers
Calibrated measuring range: ±50mm/m
Internal resolution: 0.001mm/m
Displayed resolution:* 0.01 mm/m
Inclinometer accuracy: 1% ± 0.005mm/m
Temperature error: 0.015 mm/m/°C
Communication range: 10 m (33 ft)
Warming up time: 30 min
Operating time: 12 hours continously
Battery Charging time: 8 h
Wireless communication: Class I Bluetooth transceiver with multi-drop capability.

Display Unit
Weight: 1,2 kg (2,6 lbs) with battery
Dimensions: 124 mm x 158 mm x 49 mm (4,9 in x 6,2 in x 1,9 in)
Environmental protection: IP 65 (Dust tight and protect ed against water jets)
Display size: 6,5" (165 mm) diagonal (133 x 100 mm)
Operating time: 10 hours continuous use (with 50% LCD backlight)
Environmental protection: IP 65
Battery charging time(system off, room temperature): 1 hour charge – 6 hours operating time
What's in the case