MEAX  LEVEL DUAL – Machine Tool Levelling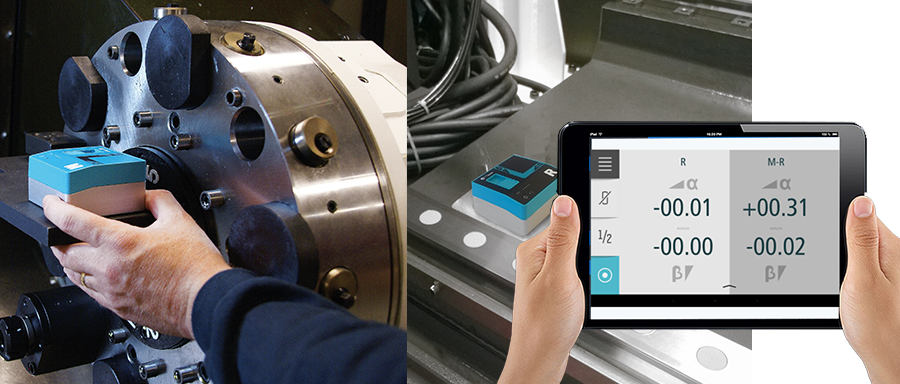 In order to check machine movements, that the machine tool is in level and that the machine bed is not subject to roll/pitch, a two-sensor solution is required: one sensor that reads the measurement and one reference sensor. In order to measure the machine bed have roll/pitch during motion, you fit the M-sensor to the tool holder and carry out a measurement reading. Use the reference sensor in order to compensate for any motion in the machine's base during measurement.
In this way, you can measure straightness by determine the angle deviation in relation to the machine's base. Both machine tool measuring sensors can easily be mounted to the machine using the fixtures supplied.

The 2-axis sensor
The future of machine tool levelling measurement is here. MEAX Level has brought together new technology that generates accurancy down to 0,005 mm/m with a user interface in modern smartphones and tablet computers. Within of a few minutes, MEAX Level will enable you to determine whether the machine is in level and is receiving data concerning roll/pitch in the machine bed. With the aid of a wireless connection to the smartphone or tablet, MEAX Level reads two angles in the same measurement.
Logical interface
MEAX Level is equipped with Bluetooth, which you use to connect to your mobile unit (iOS or Android). This is easily achieved using the MEAX Level App which, with an easy-to-understand user interface, displays the machine's angle deviations down to resolution of 0,001 mm/m. The results are saved on your device, and can be shared in any way you wish from your file handling system, through e-mail, etc.
Developed for ease of use
Both machine tool measuring sensors come fitted with batteries sufficient for 12 hours' operation. After a completed measurement task, recharging is carried out using the USB charger supplied. Each sensor is also fitted with our unique battery checker, which displays the battery level at the press of a button without activating the sensors or tablet.
The sensors' square shape has been specially adapted to fit into machines, and the turquoise colour enables them to be easily seen in industrial environment.
MEAX Level is also IP65-classed, giving a significant level of protection against liquids and dust.
Brochure and Manual
Technical Specification
MEAX LEVEL
Operating Temp: 15 to 30°C ( 59 to 86°F)
Storage Temp: -20 to 70°C ( -4 to 158°F)
Relative humidity: 10 – 90%
Weight: 386 g (13.6oz)
Dimensions: 77mm x 84mm x 45mm
(3.0 in x 3.3 in x 1.8 in)
Environmental protection: IP 65
Inclinometer: High performance MEMS
inclinometers
Calibrated measuring range: ±50mm/m
Internal resolution: 0.001mm/m
Displayed resolution:* 0.01 mm/m
Inclinometer accuracy: 1% ± 0.005mm/m
Temperature error: 0.015 mm/m/°C
Communication range: 10 m (33 ft)
Warming up time: 30 min
Operating time: 12 hours continously
Battery Charging time: 8 h
Wireless communication: Class I Bluetooth transceiver with
multi-drop capability.
BLE Bluetooth Low Energy (BT 4.0) and Classic Bluetooth
Using MEAX Level App*
WHAT´S IN THE CASE
MEDIA